Podcast
Listen to Jayme's Face to Face Mentoring Show
Ep.83: Maximize Your Marriage Using LINKED Personalities for Couples with Linda Gilden and Linda Goldfarb
Face to Face Mentoring Podcast Ep. 83 Show Notes
Linda Rose Gilden: How Linked Personalities Series Begin
Linda Goldie Goldfarb: How this book covers Pre-Marital, Newlyweds and Empty-Nesters
Rose: Dealing with the strain and stress on our marriages in these special times and How to understand your mate
Goldie: What to do if your spouse isn't reading the book with you?
Rose: How to model our love for our spouse in a practical simple way
Goldie: What sets Linked Personalities Quick Guides apart from all the others and what are the 4 Basic Personalities listed in your book?
Take the FREE Personality Assessment Quiz found at https://bit.ly/3bUcjdN
Encouraging word to remember in this season of your marriage: It's never too late to understand your mate and build a healthy marriage.
•Rose: Prays over your marriage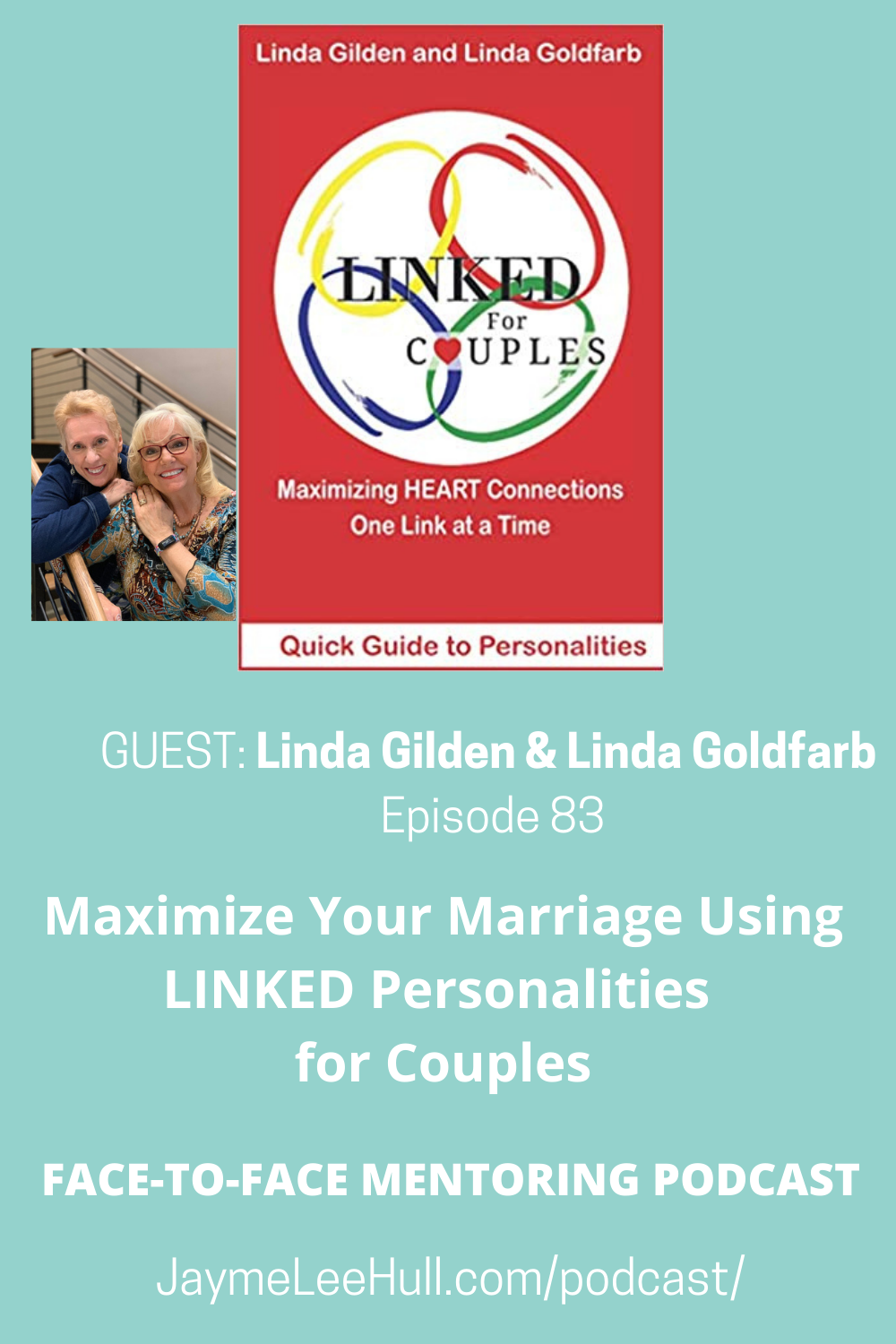 Follow Linda Gilden and Linda Goldfarb at the following sites:
LINKED for Couples Quick Guide to Personalities: Maximizing HEART Connections One Link at a Time  by Linda Gilden and Linda Goldfarb available at Amazon 
Take the Free Personality Assessment Quiz at  https://bit.ly/3bUcjdN
http://www.linkedpersonalities.com/
Everyone can join our personality family here: https://www.facebook.com/linkedpersonalities
linda@LivePowerfullyNow.org Linda Goldfarb
linda@lindagilden.com Linda Gilden
More Linked Personalities Books in this series:
LINKED Quick Guide to Personalities: Maximizing HEART Connections One Link at a Time  by Linda Gilden and Linda Goldfarb
LINKED for Parents Quick Guide to Personalities: Maximizing HEART Connections One Link at a Time  by Linda Gilden and Linda Goldfarb