If mentoring is about a relationship, then can you methodically find a mentor?  In a word, yes, but it isn't going to be a method like you might often think of a method.  It is more of a process.  Let's walk through the process together, step-by-step.
"Mentoring is not a formula or a checklist; it's a relationship."
Step One:  Be Aboveboard.
The truth is you desire more personal communication and real relationships. Begin to intentionally look at the women around you at work, church, the gym, or where you volunteer. No one will ever be perfect. What you will notice is how they handle the difficult situations of life and make the choice to move forward in their own life.
Believe me, neither good friends nor a good mentor will just "happen." So don't merely sit on your couch drinking a smoothie and praying. Pray, certainly. But then get up and move.  While you are out and about doing life watch for those around you who do life in a way you can admire.
Step Two:   Be Authentic.
Start a conversation with this person face to face. Share encouraging words with them and how you admire the way they choose to live life no matter what they are facing. Have a brief conversation about your desires to work on things in your life and grow in that area of your life.
Remember, Mentoring is so much more than just an appointment on your calendar—it's a way of life.  Therefore, you will want to look for a mentor who you feel you can spend a part of your life with sharing and growing.  You will need to be willing to open up to this person and share who you are, your strengths and your weaknesses authentically.
[easy-tweet tweet=" Be encouraged! God will give you the right words at the right time. Matthew 10:19″ user="@JaymeHull" hashtags="#mentors #encouraged #words"]
You will do this by spending time together.  This will take an effort on your part which you must be ready to blend into the other areas of your life.
Step Three:  Be Available.
Invite this person to meet for coffee. Ask them to share their life stories and consider becoming your mentor.
It is important to meet face-to-face after all God created us for face-to-face relationships long before social media began to take over our lives.  Just because you can build a relationship behind a computer or phone screen doesn't mean you should.  True authentic relationships are best done face-to-face.
"Alone we can do so little, but together we can do so much." Helen Keller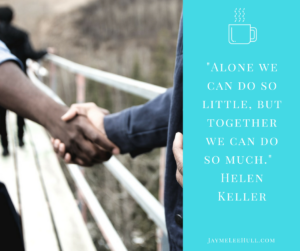 Step Four:  Be Approachable.
If you are inviting someone to share their life stories and pour into your life, you will need to be teachable. The only way to get unstuck and grow is to listen to wise godly counsel and pray about your mentoring conversation.
You will want to be willing and open to making changes in your life.  Allowing your mentor to help you take the first steps to better relationships, better choices and greater days.
Start today to seek people who can walk with you in living out your questions day by day. God didn't create you and me to do life alone. Seek a mentor today and discover how this relationship will change your life forever.
For more encouragement about Finding a Mentor Visit:4 Little Known Secrets About Mentoring