My husband and I take an anniversary trip every year for a few days of togetherness and fun as a couple. Nearly twelve years of adventures have never failed to disappoint, and we've made many memories along the way.
One year we rented a cabin in Cape Breton, Nova Scotia, Canada. The prospect of canoeing and kayaking on the Bras d'Or Lakes drew us in, so off we went.
Upon arriving, we dropped out stuff in the cabin and headed for the lake first thing. Now, you must know that we had never kayaked before, so it was quite an entertaining sight to see us climbing into the two-person kayak while trying to keep it afloat. But we managed, and set off on our adventure.
But I didn't really enjoy our excursion. I couldn't swim at the time, and just the thought of deep water sent chills through my whole body. I still don't like looking down and not being able to see the bottom of a body of water. So per that fear, I wanted my husband to just skirt the edge of the lake, and not go into the middle. Halfway through our sail, we stopped (at my request) to rest on the bank of the lake. And very quickly I wanted to return to the cabin, where my feet could touch solid ground.
Hindsight, I realized that I had created my own idea of safety and danger in my mind.
Lake=danger and cabin= safety.
But the problem was—it wasn't necessarily true. And because my mind was so obsessed with my fear, I missed the beauty of the lake.
Honestly, I missed the entire kayaking experience.
One of my favorite quotes is by Albert Einstein. He said,
"A ship is always safe at shore, but that is not what it is built for."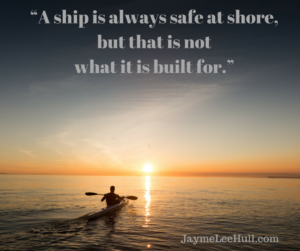 Ships are built for the stormy rough seas, for the immeasurable depth, for the unhidden elements. It's not built to sit in the harbor and look grand while people file by and gawk at its beauty.
It's built to serve—built to take risks.
[easy-tweet tweet="And so it is with us as believers who are in Christ. We are created for faith." user="@JaymeHull" hashtags="#unsafe #risk"]
We are created to serve, to find our strength and safety in Someone other than ourselves.
It can be fiercely frightening to take risks and do things that feel unsafe to us. But that is where God's power is clearly seen. That is where we depend on and receive His marvelous grace. That is where He uses us to do His will.
Ironically, that is where we are safest.
What is that thing that you dream of but are too scared to take a step towards? What is God asking you to do for Him that frightens you out of your mind?
Where is He asking you to move to? What does He want you to write, to speak, to share, to sing?
Who does He want you to invest in?
Ask God for grace, and jump. If you can't jump, take a step.
See how God enables you and how He opens doors that you can't see now and don't even know about yet. See how safe you are—in Him.
"And without faith it is impossible to please him, for whoever would draw near to God must believe that he exists and that he rewards those who seek him."                                                                   Hebrews 11:6
Visit Leah Highfill at www.embracingrace.com where she has an extensive ministry to encourage pastors' wives.