Have you ever yelled out of frustration at the newscaster on your TV, "Can't you tell me something good?" Does the daily grind seem more and more negative and less positive? Where's the joy?
Why is it when we are around uplifting positive people we want to stay there and be just like them? No one wants to hang out with the doom and gloom, joy-killers. The world is full of the negative attitudes and bed news people.
LOOKING UP
So how can we stay optimistic in a pessimistic world? Is it possible to have a "Looking up" positive attitude?
The answer is YES! It is possible to have a good attitude and respond to the trials and troubles of this world with a positive outlook if we are looking in the right direction with the correct perspective.
I believe in a God who is big enough to handle any problem and loving enough to walk us through the trials if we belong to Him.
How about you? What do you believe in?
The Bible tells us that God is all knowing, He is everywhere, He is our Creator, He is a Mighty Ruler, and He is always thinking of us.
Take 10 minutes and grab your Bible and read Psalm 139. Here is the break down of the verses:
Psalm 139
Verse 1-6 God knows everything. His Omniscience
Verse 7-12 God is with me. His Omnipresence
Verse 13-18 God made me. His Creatorship
Verse 19-24 God cares about me. His Attentiveness
Verse 15-16 God knows all. His Sovereignty
Because of the greatness of God, we can be filled with joy! But how?
[easy-tweet tweet="Scripture tells us specifically how to learn to live with the abundant joy." user="@JaymeHull" hashtags="#joy"]
Here are a few Bible verses to get you started: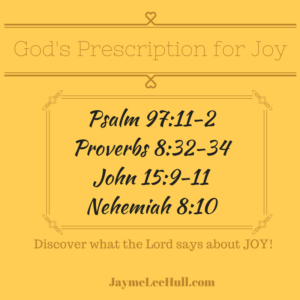 If you believe the Word of God and trust Jesus Christ as your personal Savior you are longing to have a good positive attitude and outlook like your Lord. Digging into the Word of God and praying, will lead you down a path of hope and encouragement.
Be encouraged! There is truth in God's Word! "The joy of Lord is my strength!" Nehemiah 8:10