She's identified only as "the wife of a man from the company of the prophets" (2 Kings 4:1). But the Bible reveals enough of her character to inspire me—and convict me.
She knew joy. She had two sons. She knew grief. Her husband had died and a creditor intended to take her two sons as his slaves to cancel their father's debt (v. 1). Her desperation drove her to Elisha, the prophet. She needed a miracle.
She appealed
She appealed to Elisha on the basis of her husband's faith—"you know that he revered the Lord" (v.1). Elisha challenged her to act on her own faith: "Tell me, what do you have in your house?" (v.2). She felt she had nothing of significance to offer, only "a small jar of olive oil" (v. 3). Elisha showed her that she had enough—if she responded in obedience to God.
She obeyed
She could have laughed when Elisha told her to collect her neighbors' empty jars (v. 3). What good were jars if she had nothing to put in them? But she obeyed. And when Elisha then told her to fill the jars with the oil she had, she obeyed again. How foolish it must have seemed when she lifted her tiny jar to fill the first borrowed jar. Yet the oil kept flowing until all the jars were full. So she sold the oil and paid her debt. Her sons were safe (vv. 4-7).
This unnamed widow teaches me to boldly approach God with my requests. She models the humility of revealing a need to others and requesting their help. She shows me that I don't need more faith to produce an abundant harvest; I need a more obedient spirit.
[easy-tweet tweet="I don't need more faith to produce an abundant harvest; I need a more obedient spirit." user="@JaymeHull" hashtags="#obedient"]
God may ask us to do something that seems foolish—to tithe when our income is stretched, to spend the day at the soup kitchen when our inbox is full, or to spend time with our children when the laundry hamper overflows. But whatever small thing God requests, the bountiful harvest we seek depends on obedience. And the joy we need even more than the harvest is also contingent on obedience.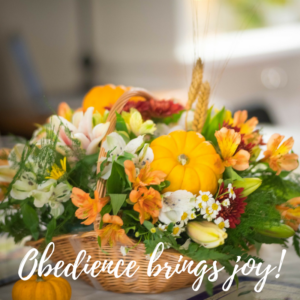 What harvest do you desire?
Are you desperate enough to ask God to supply it, to humbly ask others for assistance, and to obey God's instructions? If so, then gather your pots and watch the oil of His blessings flow into your life and overflow into the lives of those around you. And like the prophet's widow, you'll experience an abundance you never dreamed possible.
Take the Next Step: Read the widow's story in 2 Kings 4:1-7. What kind of harvest was she seeking when she went to Elisha? What harvest did she actually reap? What do you think you need from God today? Based on this woman's story, what might He supply instead?
For more inspiration and encouragement visit Denise Loock at http://www.digdeeperdevotions.com