Have you ever made an effort to bless someone with a Random Act of Kindness and had it not work out the way you thought it would? I guess that's life! I recently wanted to bless a new friend at their job. I called the front desk and asked if my friend was working today, "Yes!" said the receptionist.
My second question was slightly odd. I asked the lady, "Do you happen to know if they drink coffee?" "Yes," she answered, "They do and we joke about how strong they like it!"
"Great!" I said,"Thanks for the information."
I jumped in my car, drove straight to the drive thru window at Starbucks, bought a strong dark roast Venti coffee and a yummy Pumpkin Muffin, and went to where my friend works. When I walked in, the receptionist smiled and said, "May I help you?" Sure, I'm  the random caller from 30 minutes ago and was here to bless my friend. Her smile dropped and she said, "Oh my. They don't come in to start working for another two hours."
When I called the receptionist, I chuckled, I didn't ask if they were working right now…all I said was today, so the miscommunication was my fault. She stored the muffin in the back for my friend and gave another worker the fresh hot Venti Coffee.
Right idea. Right place. Right person.
Wrong timing.
Has that ever happened to you?
What do you do when even the good and right things you try to do…don't work out like you planned?
At that very moment I had two choices. Be sad or glad!
PRAISE IS THE KEY!
My response isn't always correct, pleasant, or happy but today, I chose to praise the Lord anyway! My Mentor would remind me through some very tough times that the KEY TO A POWERFUL LIFE IS PRAISE! She was right, which I witnessed as she lived it out in her life on a daily basis.
As a result, I got back in my car and turned up the Worship and Praise music and began to sing out loud!
Here are 7 Encouraging Verses and 7 Praise Songs to lift you up when you are fighting the "Why me?" or "Why even bother" downward spiral thinking.
7 Encouraging Verses:
[easy-tweet tweet="Psalm 22:3 "God inhabits the praises of His people."" user="@JaymeHull" hashtags="#Praise "]
Psalm 35:28 "And my tongue shall speak of your righteousness and of your praise all the day long."
Psalm 100:4 "Enter his gates with thanksgiving and his courts with praise! Give thanks to him; bless his name!"
 P"In his presence, there is fullness of joy!" Psalm 16:11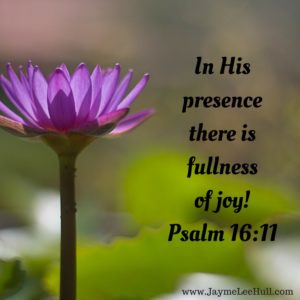 "Because your love is better than life, my lips will glorify you. I will praise you as long as I live, and in your name, I will lift up my hands." Psalm 63:3-4
"Bless the Lord, O my soul, and forget not all his benefits, who forgives all your iniquity, who heals all your diseases, who redeems your life from the pit, who crowns you with steadfast love." Psalm 103:2-4
[easy-tweet tweet="Hebrews 13:15 "By him, therefore, let us offer the sacrifice of praise to God continually, that is, the fruit of our lips giving thanks to his name." " user="@JaymeHull" hashtags="#Praise #GiveThanks"]
7 Praise and Worship Songs:
The Lion and the Lamb by Bethel  https://www.youtube.com/watch?v=q1SXPODm0uE
O Come To The Altar by Elevation Worship  https://www.youtube.com/watch?v=l37MNjjqJWo
Eye of the Storm by Ryan Stevenson  https://www.youtube.com/watch?v=Qlow_JkOpiw
Good, Good Father by Passion Band  https://www.youtube.com/watch?v=eaqaER7dasY
Cornerstone by Hillsong Praise  https://www.youtube.com/watch?v=a3HH__-1Zbs
Oceans by Hillsong United  https://www.youtube.com/watch?v=eLqTZ07ja7g
Holy Spirit by Kari Jobe  or by Francesca Battistelli
In our deepest times of pain or highest times of joy, we can discover the key to a powerful life is Praise!
Finally,  your blessings come from the intentional choice to praise the Lord no matter what we face on a daily basis. Share your God Story of Praise or Random Act of Kindness with the readers in the comment box below! Be an encouragement to one more person today!                                       Bless others and be blessed in return!