Today on Veteran's Day, we honor the American men and women who willingly made an oath and commitment to serve their country and freedom for all Americans. They dared to serve. Just ordinary people who are asked to do extraordinary things.
When the men and women of our country decide to serve, their lives change forever and that includes their entire family. Every soldier and his or her family need our prayers, gratitude, recognition and encouragement. We set aside Veteran's Day to give our thanks and honor to our American Patriots who currently serve, have retired and those who have died for our country.
No matter how long they serve the country, each member of our armed services need refreshed, restored, renewed and supported during and after their time of service.
Today we say THANK YOU and recognize our American Veterans the real HERO'S of our country.
Let's focus on giving HONOR, praying for HEALING and speaking HOPE into our American Veteran's in our families, communities, churches and all over our country.
Please Take the time to read the following 7 Ideas, 7 Statements to Share, 3 Organizations,                 3 Inspiring Books and 3 Incredible Patriotic Songs! And most of all, share this post with others.
PASS IT ON!
7 ideas to get you started and be intentional with showing your gratitude:
1) Buy gift cards for food, gas or coffee and hand them out to a Veteran with a word
of thanks, hand shake and an kind embrace.
2) Offer to watch their children so they can go out on a date or have a little getaway.
3) Fill up their car with a full tank of gas
4) Buy groceries and deliver them to their doorstep
5) Cook dinner and deliver it to their home warm and ready to serve.
6) Write notes of thanks as a family and hand deliver them to a Veteran.
7) Take them out to dinner or the local coffee shop and LISTEN to their stories.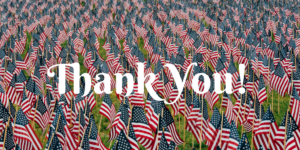 7 suggested statements of HOPE and THANKS to share with an American Veteran:
1) We are so grateful for your service and sacrifice. Thank you for serving our country so we can              enjoy and maintain our freedoms.
2) I appreciate you! Thank you for serving.
3) There's no way to repay you for your sacrifice but please know we are grateful.
4) Thank you for your service. How can I pray for you?
5) You matter to our country. Thank you for all of your hard work and sacrifice.
6) I'm so proud of America and your service to our country. Thanks for everything
you are doing and have done for America.
7) Thank you! You are so important to our country. Where are you from? Do you
have family at home or near your home? How can we be praying for you and your family? I will          be praying for your protection and blessings for you and your family.
3 Established organizations who focus on HELPING our Veterans and Patriots. Would you pass the following information forward to those who may need help?
#1 Samaritans Purse.org Operation Heal Our Patriots
https://www.samaritanspurse.org/what-we-do/about-operation-heal-our-patriots/
 Operation Heal Our Patriots gives wounded veterans and their spouses the opportunity for spiritual refreshment, physical renewal, and marriage enrichment. Couples participate in Biblically based seminars that help strengthen their relationships with God and others and enjoy the beauty of God's creation with outdoor activities at our Alaskan wilderness lodge. We continue to support these men and women after their initial stay, keeping their spiritual needs and marriages a priority.
#2 Reboot Combat Recovery.com
Mission: REBOOT Combat Recovery (REBOOT) exists to help combat veterans and their families heal from the spiritual and moral injuries of war associated with post-traumatic stress and combat trauma. Overview: War wounds the soul. Over the past several years, the medical community has expanded its view of the impact of trauma. Now, many acknowledge that combat trauma directly impacts not only the mind and body but also the soul. This type of injury is called moral injury.1 Moral injury can manifest itself in the form of anger, anxiety, depression, social withdrawal, and, most tragically, suicide. At REBOOT, we believe these symptoms are often linked to deep-rooted soul wounds related to unresolved grief, distrust of God/self/others, unforgiveness, bitterness, and loss of identity. Not surprisingly, the ripple effects of combat trauma and resultant moral injury often negatively impact the mental health and quality of life of military family members as well.2 REBOOT offers accessible, no-cost programs to help combat veterans and their families heal from the moral or spiritual wounds of war.
#3 Cru Military Ministry
We are a caring community passionate about connecting the global military community to Jesus Christ.
We are individuals, churches, chaplains … people just like you … drawn together to spiritually build up the military community by meeting them at their greatest point of need.
Our purpose, as the military ministry of Cru, is to fulfill the Great Commission in the power of the Holy Spirit by winning people to faith in Jesus Christ, building them in their faith and sending them to win and build others while helping the body of Christ to do evangelism and discipleship.
3 Recommended Inspiring Books to give as gifts to a Service Member and their family members:
1) While My Soldier Serves: Prayers for Those Who Have Loved Ones In the Military
by Edie Melson  http://amzn.to/2fBA6jE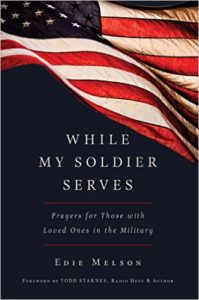 2) In God We Still Trust: A 365-Day Devotional by Richard Lee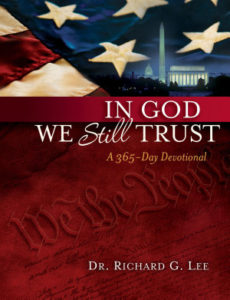 https://www.amazon.com/God-We-Still-Trust-Devotional/dp/1404189653
3) Battlefields & Blessings Devotionals Series (10 Books in the Series)
3 Inspiring Songs on YouTube to encourage all Americans and our Veterans:
1) What Did He Die For? by Twila Paris 
2) IN God We Still Trust by Diamond Rio
3) Letters From War by Mark Schultz
Dear Lord,

 

Thank you for blessing us to live in our wonderful free country. Help us, Lord, to remember that with freedom comers great responsibilities. Bless our men and women who have served this country and those who are currently serving and fighting for our freedoms. Protect and bless each one of our soldiers, Veterans and their family members and give them peace, hope and healing on a day-to-day basis. Teach us to live not just freely, but responsibly and according to your principles in Your Word. May you bless our country and may we be a blessing to You, and let it all begin with me.

Amen!