The internet is swamped with how-to's for making yourself stand apart. We all want to shine, often, with a desire to shine brighter than the person next to us.
It's not bad to want to improve and be at the top of your game. Competition isn't wrong in and of itself because it's a sharpening mechanism.
However, discouragement and jealousy can be ruthless thieves when it comes to hustling. Comparison and coveting go hand in hand when a goal-oriented person shifts their eyes from the goal to another goal setter.
Here's something we all need to let sink in: the drive inside of you is just as important as the drive inside of her.
If you find you're struggling with celebrating another person's God-appointed victories, ask yourself not just what is driving you, but who is driving your ambitions.
Is it you?
Is it someone else?
Or is it God?
Whatever you're hustling for, don't forget that God's best for your life is to live abundantly. Abundance means more, not less. Abundance means room.
There's room for more victories and more contributions. You may be waiting for victory or for your contribution to be accepted. Meanwhile, as you celebrate the successes of others, your story will ripen a little more as your character ( YOU… the character God has written in His story of your unique persona!) develops into a deeper, less shallow fulfillment seeker.
Seasons
This season of striving toward is just as important as reaching. Coming into the fullness of God's timing entails coming through diverse seasons. As much as you'd like, you can't fast forward through God's seasons.
Do you realize that 42 generations had to exist before God saw that history had been fully seasoned to receive the Messiah? (See Matthew 1:17)
Each season built upon the last. Each generation had to live in its sovereignly timed season to bear the fruit it was meant to produce. Each season led to the story of the Savior.
Your seasons of waiting, building, fumbling, and/or accomplishing is important.
If you haven't heard the bells of victory yet for whatever it is God has called you to do, keep listening, obeying, showing up, praying, and putting in both the sweat and time equity required to be faithful until God completes this season. And when someone else reaches the goal you're moving toward first, celebrate for them rather than burning with negative emotions. Their season is right on target with God's sovereign timeline. So is yours.
We need more writers, teachers, and creatives. We need more awesome moms, more fabulous wives, more kids to be fostered and adopted, and more confident singles. We need more leaders, more servers, and more managers. We need more doctors, more housekeepers, and more entrepreneurs. We need more. There's room for you. And there's room for her. Celebrate what God is teaching you in this season.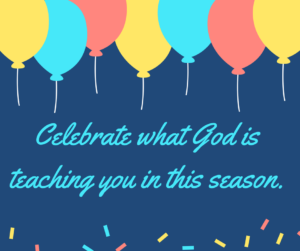 Sometimes it's hard to celebrate when it seems that you're surrounded by overachievers and naturals. But you may not know or understand the backstories and stories to come for those seeming to threaten your own success. Shine brightly and cheer for the lights that are popping up around you. There's enough room.
Maybe the internet needs less how-to's on standing apart and more on standing together. When you shine brightly, that's a gift from the Light of the World, as is that light burning a little brighter than yours this season. More light equals less darkness. That's what we're striving for, isn't it? More light, and less darkness, friends: that's what the internet and our hearts need.
Visit Emily's website http://www.emilypmeyer.com