I close my eyes and cool air washes over my face, a welcome relief after a harsh summer – physically and emotionally. Jon Foreman's voice drifts in the background and I feel my heart catch on the lyrics:
"…I've spent ten years trying to sing these doubts away, but the water keeps on falling from my eyes, and heaven knows, heaven knows; I tried to find a cure for the pain…"
Jon Foreman, The Cure for Pain
 Cure For Pain
It seems that lately, I've been on a desperate search to find a cure for the pain in my life. I struggle with it in one way or another, trying fruitlessly to heal myself. I write and I pray and try to believe that eventually healing will come and everything will feel more secure or at least less vulnerable than it feels now.
I believe that all circumstances in life come in due time. Happiness, sorrow, tears, melancholy, peace, trouble, healing, pain – according to scripture, everything has a time and a place.
"For everything there is a season, and a time for every matter under heaven: a time to be born, and a time to die; a time to plant, and a time to pluck up what is planted; a time to kill, and a time to heal; a time to break down, and a time to build up; a time to weep, and a time to laugh; a time to mourn, and a time to dance; a time to cast away stones, and a time to gather stones together; a time to embrace, and a time to refrain from embracing; a time to seek, and a time to lose; a time to keep, and a time to cast away; a time to tear, and a time to sew; a time to keep silence, and a time to speak; a time to love, and a time to hate; a time for war, and a time for peace."
Ecclesiastes 3:1-8
When life feels like it is spiraling and another heartbreaking story is on the news and it feels like too much all at once – I hear a still voice whisper: Just Be.
How often do we truly take the time to sit still and just rest in His presence? I know for myself it's not nearly as often as it should be. This is an area of my walk I'm actively working on. When I do sit down and intentionally meet with the Lord, the world goes quiet, the background noise fades and I'm left with the peaceful, healing presence of my Savior.
God Shows Up
To accurately see through the lens of the ever-present pain of this broken world requires intense concentration on the promises of God. If we take the time to focus and seek out truth, there is such incredible beauty to be found – grace, peace, and hope that will buoy us through the mess of life on Earth.
I believe that God shows up in the worst places, in the worst times, in the worst circumstances.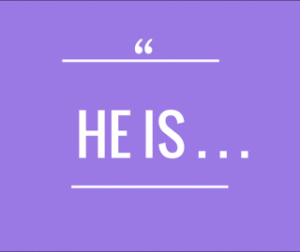 He is the sun breaking out from behind a storm cloud. He is the first cool morning of Autumn. He is a snowflake fluttering into a child's hand during the first snow of the season. He is the welcome smile on a stranger's face after a particularly crummy day.
Today, as you're pushing forward in whatever life has for you during this season, I encourage you to take a moment to rest in Him and just be.
To read more from Kaylan about resting in the Holy Spirit click Here