What does your home look like? How do we build a Christ-centered home? Learn the four easy ways to build and manage your home for Christ. Now is the time to focus and be intentional about our time management and blessings from God in our homes and in our personal lives. 
4 Easy Ways to Manage Your Home for Christ
#1 What Does the Bible Say about Maintaining Your Joy?
Do you know the difference between joy and happiness? Knowing the difference between these two actions is a game-changer. Happiness depends on what happens in your life. and happens to us. Joy, on the other hand, has much deeper roots and remains no matter what happens in your life. In order for you to manage your home with joy, you will need to make an intentional choice. You see, joy is an inner feeling found down deep inside but happiness is an outward expression.
Do you know the difference between joy and happiness? Knowing the difference between these two actions is a game-changer. #JaymeLeeHull
Click To Tweet
Nehemiah 8:10 "The joy of the Lord is your strength."

Romans 15:13 "May the God of hope fill you with all joy and peace as you trust in him, so that you may overflow with hope by the power of the Holy Spirit." (NIV)
Related Post: Managing Your Home . . .For God's Glory
#2 What does the Bible Say About Having Your House in Order?
You and your family can decide what needs a strong order and how to maintain that order in your home. Is it time for you to create a new focus plan to decide what things need to stay and what needs to go to goodwill or the trash can? Most of the time, if the house is in disaster mode our lives follow the same path. Before we know it we are anxious, short-tempered, or living with worry and fear at work? 
We want to manage our home to be a place where we build each other up and not use our words to tear each other down. Let's look at a powerful verse from the New Testament and learn to press into living an orderly life. 
1 Corinthians 14:40 "But all things should be done decently and in order." (NIV)
Related Post: 5 Tips for Keeping Your House In Order
#3 What Does It Mean to Have A Home Filled with Grace?
Grace is based on the incredible finished work of Jesus Christ on the cross for our sins. My favorite scripture pertaining to grace is found in one of the four gospels of the New Testament. 
John 1:14 "The Word became flesh and took up residence among us. We observed His glory, the glory as the One and Only Son from the Father, full of grace and truth." (NIV)
We need to create and manage our homes as safe places for every person who lives there. Everyone has mess-ups. No one is perfect. Grace is the favor of God as He showers us with a blessing. How do we manage our home and make it grace-filled and Christ-centered? One easy way for this to happen is for us to constantly show grace to ourselves and others like the Bible is teaching us in the following verse.
John 1:16 "Out of his fullness we have all received grace in place of grace already given." (NIV)
Related post: Grace-Filled Homes
#4 What Is The Purpose of a Home for Christ?
God desires for us to have a place of rest and a special place to cultivate learning about Him and each other. Is your home a place where you can be renewed and refreshed? Have you created a place for learning and remembering the goodness of God and His blessings in your life?
Today is a great day to start preparing yourself, those you love and your home to be intentional about your faith. Our homes are purposed by God to refresh us and others. Are we inviting others into our homes and sharing our faith with anyone who will hear how God took our mess-ups and created a message of hope? 
Praise the Lord, His mercies are new every morning! Manage your home for Christ and praise the Lord for His wonderful purpose and victorious plans.
Hebrews 3:4 "For every house is built by someone, but the builder of all things is God." 

Luke 12:34 "For where your treasure is, there your heart will be also."

2 Samuel 7:29 "May it please You to bless the house of your servant."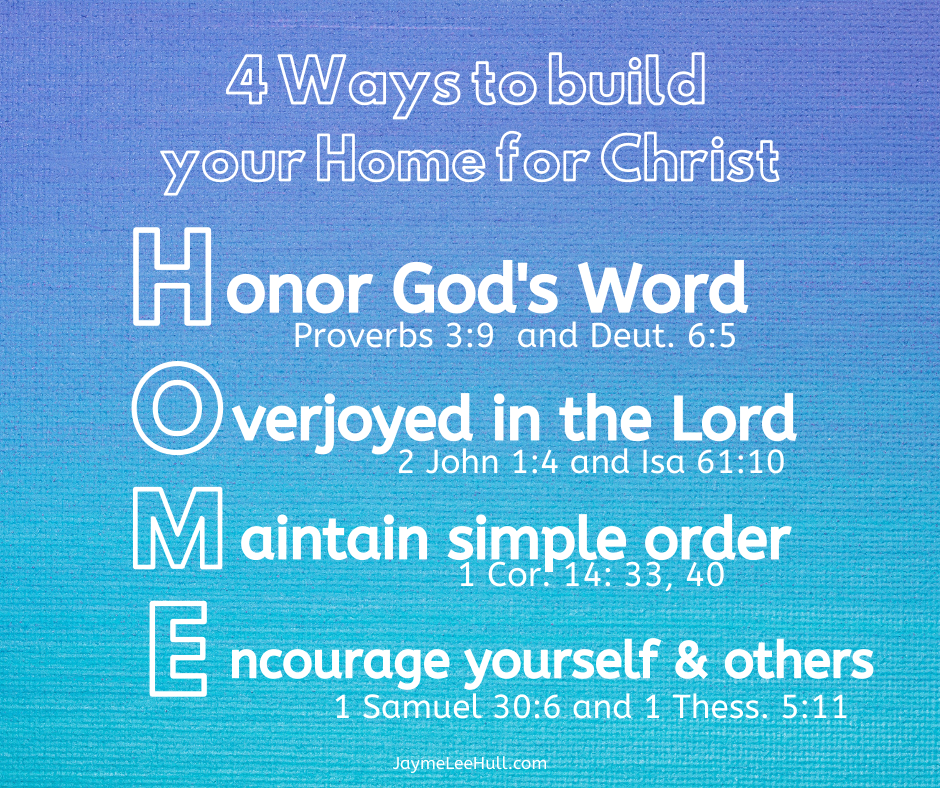 Related Post: What the Bible Teaches About Homes of Purpose
Will you take these four easy action steps to manage your home for Christ?
Joy. Order. Grace. Purpose.
You can trust God at His word. God will never fail on His promises or disappoint you. Seek the Lord today and watch your home become the Christ-centered home you hoped for!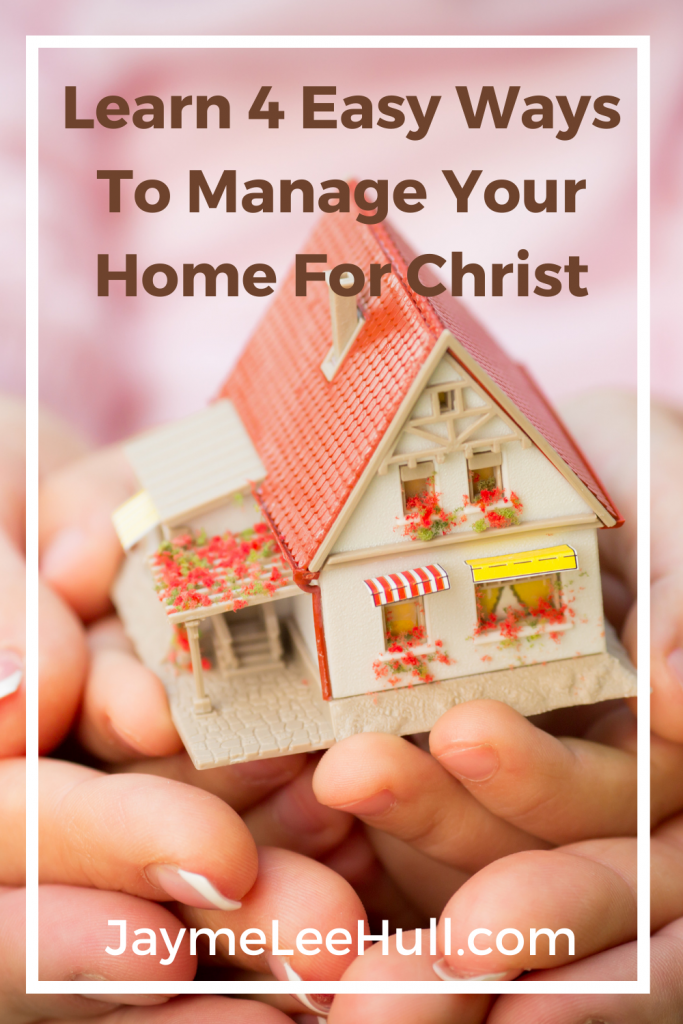 If you enjoyed this post, you will enjoy these:
How To Overcome Your Negative Thinking With Truth
Breakthrough the Obstacles To Your Spiritual Growth
Why Spiritual Direction Is Important For Your Life 
I'd love to hear where you are in your faith journey and how I can pray for you.
Which one of the 4 Easy Ways to manage your home will you focus on this week?
To God be the Glory,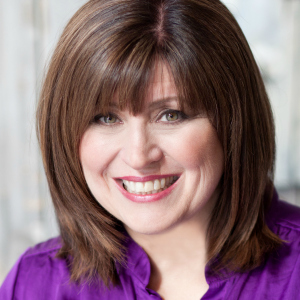 This post contains affiliate links. Clicking on them helps support this ministry at no additional cost to you.  Thanks for your support.