Some may have called her the Wonder Woman of Ephraim. She was definitely a hero who fought the forces of evil in a dark period of Israel's history.
Her name was Deborah. The Bible identifies her as a leader of Israel who settled disputes (Judges 4:4). She was also a prophetess, which means God revealed His plans to her and delivered His word through her to His people (v. 4). She must have been a remarkable woman to be esteemed as a wise leader in a male-dominated society.
WORTHY
Her worthiness to be praised is also revealed in the way she responded to the invading army of a Canaanite king, Jabin, and his commanding general, Sisera. Jabin's military was superior to Israel's manpower and technology. Jabin had chariots and horses; Israel only had foot soldiers. Yet Deborah's faith in God and His word inspired her to persuade General Barak to engage Sisera and his troops. Deborah may or may not have had faith in Barak, but she had absolute confidence in God. "Go!" she told Barak. "This is the day the Lord has given Sisera into your hands. Has not the Lord gone ahead of you?" (v.14).
So Barak and his 40,000 troops engaged the enemy. And the Lord God Almighty, Israel's commander in chief, led the charge: "At Barak's advance, the Lord routed Sisera and all his chariots … all the troops of Sisera fell by the sword; not a man was left" (vv. 15-16).
INSPIRING
Deborah inspires me because she wasn't afraid of the "dark." Neither the dark practices of cruel Sisera nor the dark, idolatrous ways of her fellow Israelites deterred her from doing what she believed God had called her to do. And her faithfulness inspired others, such as Barak, to embrace God's will for their lives too.
DEDICATED
We don't know how many years Deborah dedicated herself to the small things—property disputes, family disagreements, Mosaic Law violations—before God placed a national crisis in her capable hands. But when He said, "it's time," she was ready to persuade, inspire, assist, and lead.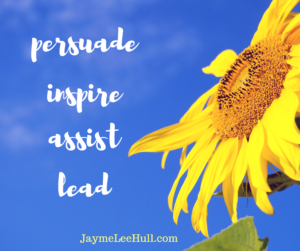 How about us? Are we wringing our hands, thinking the culture's too evil and the enemies too fierce? Or are we faithfully carrying out the daily will of God in our lives as He prepares us for some larger task?
[easy-tweet tweet="God is never outnumbered. One faithful person with a willing heart can make a difference. " user="@JaymeHull" hashtags="#faithful"]Deborah did. Barak did. No super powers necessary. Who will be the next faithful servant God sends out of the base camp to the front lines? Maybe you. Maybe me. Will we be ready?
Take the Next Step: Read Deborah's song of victory in Judges 5. Then write your own song of victory for what God is accomplishing in you and through you.
For more inspiration and encouragement visit Denise Loock at http://www.digdeeperdevotions.com