As we enter into the Christmas season some of us are hurting. Our hearts, and maybe our dreams, are broken. We are stressed and stretched to the point of wondering what it's all for anyway. The hours keep shrinking and the obligations keep mounting. Where is the peace?
When did life get so… much?
We've lost loved ones and as their absence fills the room, we need the comfort only God can give in our grief. We know God sent His Son, Jesus Christ, to die for our sins, and to give His peace and presence through the Holy Spirit. And we need to believe it more now than ever.
[easy-tweet tweet="No matter what we face, Jesus is the Prince of Peace and our Rescuer – our present help in times of trouble. " user="@JaymeHull" hashtags="#peace"]
God doesn't desire for us to face today's storms and trials alone.
As we get quiet and sit with Him, we remember that God sent His Son into this world to be Immanuel, God with us.
Be encouraged as the Word of God will bring rest to our souls.
Finally, when we exercise faith, God's voice of love and grace break through the darkness.
Most of all, read the following verses for your encouragement and blessings from God.
VERSES ON THE PEACE OF GOD
"For a child will be born for us, a son will be given to us, and the government will be on His shoulders. He will be named Wonderful Counselor, Mighty God, Eternal Father, Prince of Peace."Isaiah 9:6
"The Lord gives His people strength; the Lord blesses His people with peace." Psalm 29:11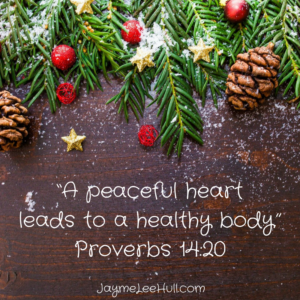 "A peaceful heart leads to a healthy body." Proverbs 14:20
"I have told you all this so that you may have peace in me. Here on earth, you will have many trials and sorrows. But take heart, because I have overcome the world." John 16:33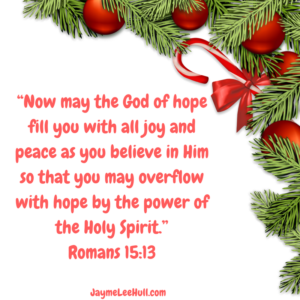 "Now may the God of hope fill you with all joy and peace as you believe in Him so that you may overflow with hope by the power of the Holy Spirit." Romans 15:13
Therefore, we can have hope in the hard things this Christmas because Peace is not a faraway place or status to be pursued. Peace is a person and He is always ready for us to turn and grab His hand. Today we can seek and pursue Him who loves us enough to die for us. Hallelujah! He is here!
God is with us!
Click HERE for more posts on this topic.