A recent study shows that Millennials are the largest living generation in America today. This generation is unique and diverse. They are the first generation to be born into using the Internet and new technology. But more importantly, did you know they also desire to have a Mentor who will do life together and share their God stories?
You may be asking, "Who are the Millennials?"
The Millennial generation is between the ages of 18-34 in 2015 with the youngest born in 1997 and the oldest born in 1981.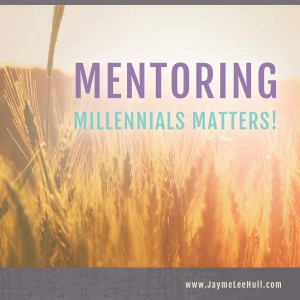 Despite what you hear on the evening news, movies, and social media, Millennials long to have someone to look up to and they desire to make a positive impact on their world.
Recently, I decided to share my passion for mentoring through recorded Video Interviews with a few Millennial friends I mentor and other women I have trained as mentors.
Meet my friend, Emily.
Emily and I met at a Young Adult Ministry gathering at a local church. She attended a Bible Study I was teaching in my home and after getting to know each other, I invited her to meet me for coffee. I am so blessed to be a part of her life and share her God story with you.
What I love about Emily is how open and authentic she is about her relationship with Jesus and every aspect of her life. She is eager to learn and grow and it shows as a young Millennial Christian Professional.
Here are a few takeaways from this Video Interview:
Pouring into a Millennial will make a impact as you have honest and relevant conversations.
Being a safe person to discuss life is an important part of mentoring.
Becoming a cheerleader and spiritual guide with the next generation will change lives.
On my website http://www.JaymeLeeHull.com  I have recorded 9 Interviews to give you a glimpse of How Mentoring Works.  Just click on the YOUR STORY page in the Menu at the top of the Homepage.  I know you will be encouraged and inspired with each interview.
I believe mentoring isn't just a nice idea. It's critical for your growth—professionally, emotionally, relationally, and spiritually. Pouring into the next generation can make the difference between success and significance. Between performing at work and developing your potential. Between doing and becoming.
[easy-tweet tweet="Mentoring is never just about us. It's about God working in us to prepare us for what He wants to do through us." user="JaymeHull"]
Now it's your turn.
Step out. Challenge yourself.
My message to the Millennial:
Surround yourself with people you can learn from. Know that you don't have to do life alone.
Trust God. Be Yourself. Seek a Mentor
My message to the Mentor:
Give yourself away. Share your God stories. Look around at the Millennial generation and pour into their lives.
Trust God. Invest in others.
My message to both:
Remember, you can be "confident of this, that he who began a good work in you will carry it on to completion until the day of Christ Jesus" (Philippians 1:6)
May you be brave enough to be vulnerable, strong enough to reach out, and may you meet God in new ways as you connect with Him and your new mentoring relationship.
Share your comments and questions below. We'd love to hear your God stories!