I recently returned from a trip abroad with my sweet husband. It was a gift to each other – the honeymoon we weren't able to take when we first got married. We spent 10 precious days traveling across the Irish countryside and it was everything we had dreamed of.
I've always found travel to be incredibly enlightening. New cultures, new people, new places, and new experiences – they open my eyes. I love the thrill of figuring out how to navigate a new city, studying the nuances of a new culture, watching the way that people interact with each other, and discovering new foods to love.
On this particular trip, I found myself hyper-aware of the ways that I am blessed by the Holy Spirit.
We had just arrived back into Dublin and dropped off our rental car. Our hotel was a thirty-minute walk, so we decided against grabbing a cab. About ten minutes into our walk, the rain started to fall and the wind kicked up. As much as I aspire to pack light, between the two of us we had a suitcase, a carry-on, two duffel bags, and a backpack. Needless to say, we were ready to be settled in our hotel.
I was walking leisurely, not in any specific rush, when my husband grabs my hand and pulls me along. I hadn't been aware, but two gentlemen had taken a particular interest in us and were following a little too close for comfort. My heart started to race and my imagination began to cultivate all of the possible scenarios. For about thirty seconds, I let the situation run away with me. I could sense my husband's anxiety as our pace quickened. In no time, I feel panic taking over.
As we continued walking, I called out in prayer and felt a sense of calm wash over me. The greatest source of comfort and protection was within my grasp the whole time and I hadn't reached out to Him. I fell immediately into repetitive prayer asking the Lord for protection, wisdom, and peace and all of these were granted to us. The gentlemen who had been following closely gave us a few more glances and then turned back and walked off toward the direction we had come from.
"The Spirit you received does not make you slaves so that you live in fear again; rather, the Spirit you received brought about your adoption to sonship. And by him we cry, Abba, Father."
Romans 8:15
How quickly I forget the gift that has been given to us upon salvation – the very real and very powerful presence of Christ living within us.
[easy-tweet tweet="The Holy Spirit comforts, connects, guides, empowers, enables, teaches, transforms, strengthens and so much more." user="@JaymeHull" hashtags="#HolySpirit, #resting"]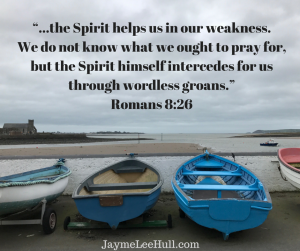 "In the same way, the Spirit helps us in our weakness. We do not know what we ought to pray for, but the Spirit himself intercedes for us through wordless groans."
Romans 8:26
My prayer for all of us, in this season and every other, is that we do not take for granted the gift that is the Holy Spirit; that we stay aware and in constant communication with our Father through His Spirit.