I love Summer so much. It fuels my wanderlusting heart. But the older I get, the more I recognize how much I value the reset button of Fall after the loosey-goosey, wild, abandoned hot days and whimsical adventures. I think in terms of semesters, still, even 11 years outside of occupying the halls of college. A lot of that has to do with me being a Professor's wife, of course, but even before my husband assumed that roll, I still thought in these terms.
At this stage of life, Autumn is a time for me to catch my breath after running around for a few months trying to squeeze in all the family adventure time possible. It's a season in which to clear my head before we dive back into the thick of a more structured routine.
Seasons of Life
I need all the seasons of life to flourish as a growing individual. You do too. We need the cold, grey days of Winter to bring pause and consideration to what we often skip over in our color-filled stories. We need the budding days of Spring to appreciate what's been growing beneath our soul's surfaces and to hope for what's to blossom. We need the heat of summer to sweat out the ordinary and appreciate the extraordinary. And we need the turning leaves of Autumn to actually stop and inhale what is happening through the transitions and turns of our lives. Whether in actual September or the metaphorical Autumns of life, Fall is where I notice my need to reset, clear my headspace, and find margin.
Margin
Margin is something often neglected in the full pages of our calendars, but it's so necessary for a soul's lungs to find the best cadence in breath. Margin is only found when like on a college-ruled sheet of notebook paper, you choose not to put any markings on the outskirts of your life's page. Margin requires intentionality and the choice for the great over the good. Margin makes a story more readable.
[easy-tweet tweet="Margin requires intentionality and the choice for the great over the good. " user="@JaymeHull" hashtags="#margin"]
Life is noisy. Quiet moments are often few and far between, making it difficult to hear both yourself and the whispers of God. Clearing your headspace makes room for God to do more in your heartspace.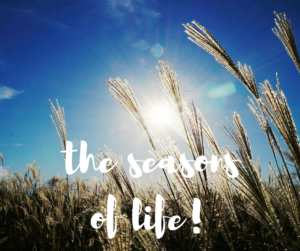 What season are you in right now? Maybe you're not quite at an Autumn stage yet. That's ok. You can still find margin in any season if you look closely enough. Examine the sum of your days and be intentional about catching up on your thoughts and open your heart to what God wants to clarify inside your soul. Set aside time to clear your headspace to make room in your heartspace.
"In repentance and rest is your salvation, in quietness and trust is your strength.." Excerpted from Isaiah 30:15, NIV
For more wonderful articles visit Emily's website  http://www.emilypmeyer.com
Twitter: @emilypmeyer