I wonder what would happen if we truly lived lives intentionally building each other up on a daily basis with our words.
As Christians, we are commanded to think before we speak and love others.
I remember, as a new believer, finding the verse in the Bible stating that I was accountable for every careless word I spoke. What??? There's really a verse about careless words?
Yep.
Check it out:
Matthew 12:35-37

"A good man produces good things from his storeroom of good, and an evil man produces evil things from his storeroom of evil. I tell you that on the Day of Judgment people will have to account for every careless word they speak. For by your words you will be acquitted, and by your words you will be condemned."
It is sad to see the death and destruction of evil on the news today. People are hurting, hearts are broken and in a quick moment, lives are gone. We mourn with the mourning.
Romans 12:15

". . . mourn with those who mourn."
SPEAK LIFE
We cannot be silent.
We need to speak life back into death and darkness.
I woke up this morning and all I could think was "I need to shout words of encouragement and hope from the mountain tops."
My kids and grandkids need words of encouragement and hope!
Our country needs words of encouragement and hope!
This is a small shout . . . small solution . . . small movement . . . small blog . . .
But we must begin somewhere!
I am convinced:
[easy-tweet tweet=""God will do incredible things when we speak life into another human being!"" user="JaymeHull" hashtags="FTFMentoring, "]
[easy-tweet tweet=""The prayers of the brokenhearted will move the hand of God."" user="JaymeHull" hashtags="prayer, FTFMentoring"]
POSITIVE WORDS
It is not difficult or impossible to speak positive words to another person!
I actually think it's super easy to encourage others!
Let's Get Started:
How To Use Your Words To Make A Positive Impact On Others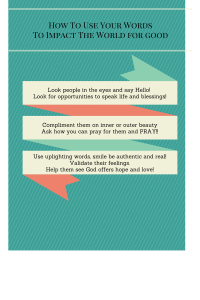 What is in your storehouse? Which words will you choose?
I highly recommend a book by Robert Morris, The Power of Words. In this book Morris writes, "There are three types of people:
1) Those who think before they speak

2) Those who think while they speak

3) Those who think after they speak
Hmmm . . .
That's convicting.
It's time we begin thinking before we speak.
START TODAY!
Start the conversation today. Begin looking for an opportunity to be a solution to the problem with your words of encouragement and hope. Reach out to your family, friends, co-workers, community, and church and be the positive change to transform this world for future generations.
Be encouraged! With God's help, we can break down the walls of hate and rebuild with authentic relationships of love and encouragement.