Do you ever feel so exhausted by the weekend you can't get out of bed? Has there ever been a time when you wanted to sleep in and skip Worship?
The thought of giving up an hour or two every Sunday morning makes you cringe. Distractions and exhausting schedules get in the way. Roadblocks of all kinds hold you back.
Then all of a sudden, you can't explain it, but the oppression begins to lift and you experience an incredible change of heart. Something has changed.
You decide to get up and go meet God with other believers at your church.
Could it be that someone is praying for you? Your Mom always told you there is POWER IN PRAYER… maybe she was right!

You quickly get out of bed and get dressed. Grab a cup of coffee and run out the door. Just as the first song begins you slide in and claim your seat. With a sigh of relief, you can feel a refreshing peaceful feeling coming back to your heart.
You can't stop thinking to yourself, "Why have I resisted coming to Worship God for so long?"
Fighting the distractions in your mind. You pray for God's help.
Oh God, thanks for helping me get here this morning. I need You. I'm listening, God, for your voice. Please. God. Speak to me today.
Once again the oppression lifts.
Is someone still praying for you?
That's what Prayer Warriors do! They pray you through things.
Deep inside your soul, you know you desperately need to meet with God.
Grateful. Thankful.
As the music plays you sing of God's GRACE and LOVE.

As you begin to sing the lyrics of the songs begin to pour over you deep into your mind, heart, and soul.
[easy-tweet tweet="God is waiting for his True and Genuine Worshippers to Seek Him." user="@JaymeHull" hashtags="#True #Worship #seek"]
"Come, let us bow down in worship, let us kneel before the Lord our Maker." Psalm 95:6
God longs to connect the Worship time and the Worship message to the rest of your life on a daily basis.
"David teaches us that we worship God before, during,

and after our battles."

Darlene Zschech

"Nothing is higher on God's agenda for Himself and

for His people than true worship."

Henry Blackaby
"A time is coming and has now come when true worshipers will worship the Father in spirit and truth, for they are the kind of worshipers the Father seeks. God is Spirit, and his worshipers must worship in spirit and in truth." John 4:23-24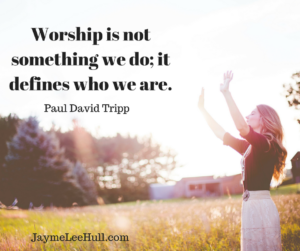 Be encouraged! Now is the best time to worship the Lord!
Will you fight the distractions and find a place to worship the Lord Today?
Remember…SOMEONE IS PRAYING FOR YOU!!