I've never been gifted in the area of gardening; in fact, the color green is non-existent in either of my thumbs. But, honest-to-goodness, there hasn't been a spring when my heart hasn't held out great hope that this might be the year our humble abode becomes Better Home and Garden Magazine worthy.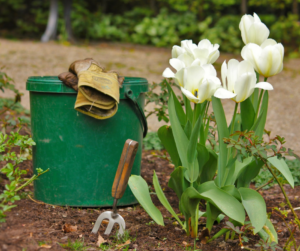 As the white on our lawn begins to fade from sight and the frosty nights begin to decrease, my excitement grows as I envision flower pots and flower beds around our property. In my mind's eye, I can easily conceive how spectacular our house will look once I make my way to the nursery. However, recently I realized—as I found myself wandering through my favorite Nursery—I am overwhelmed by the options. Finding myself standing in the midst of a greenhouse, surrounded by a gazillion flowers, I lose all sense of myself. Eventually, I grab a flat of flowers and head back home where I will:
grab one of my old pots,
pull back the dirt
slip the new plant in
pray for the best.
Early in April, I realized planting is really just a guessing game for me; one I am determined to win. Therefore, I decided this would be the year I'd become plant and pot savvy and do a little research on the correct way to plant in the spring. Did you know you should sanitize your pots every year? Who knew? I was also made aware there are a few steps to take before you slip the new plant in. First, you should remove any of the old plant matter, such as roots, twigs, and leaves. I've never made any attempt to dig deep down in the soil. I usually just do surface work. The next suggestion was to turn the soil with a trowel. Experts say that's the best tool to make sure the soil is no longer hard and compacted; not much grows in hard, compacted soil, they say. One final step was recommended for the health of the soil: add some nutrients. No wonder my flowers never survive the summer!
Reading through the list of suggestions, I couldn't help but notice how similar soil care is to soul care. According to Merriam-Webster, sanitizing the pots makes them more pleasant and removes anything unpleasant or offensive. This reminds me of what happens to us, as jars of clay, when we are sanctified.
Jesus prayed, "Sanctify them by the truth; your word is truth"

(John 17:17, NIV)
Then just as we need to remove the old plant matter from deep within the soil, God wants to do the same within our soul; He promises to remove the old with the new for anyone in Christ (2 Corinthians 5:17). And just as a trowel is a good tool for turning hard and compacted soil into something workable, the Holy Spirit's conviction is a tool used to turn a stony, hard heart into one of flesh (Ezekiel 36:26). And let's not forget the nutrients. Soil needs nutrients and our soul needs nutrients. The source of our soul nourishment is found in the Word of God. Solomon instructed us,
"Do not be wise in your own eyes; fear the Lord and shun evil. This will bring health to your body and nourishment to your bones" (Proverbs 3:7-9, NIV)
[easy-tweet tweet="As we seek to change our identity – one letter at a time – let's seek proper soul care by allowing Him to dig deep and nourish us with His Word." user="@JaymeHull" hashtags="#identity"]
Be You
N-Nourished
Kolleen is the author of the devotional book, The ABC's of Who God Says I Am.
Read more by Kolleen at  http://www.speakkolleen.com/