Our family has always enjoyed playing games. Our children grew up with family game nights as we gathered around the table with a board game or card game. Video games weren't off-limits, either. Family time still includes game time.
However, there is one game I've never liked to play with them, or anyone for that matter—people games. It can be easy to partake of this game, and also difficult to recognize when it begins; we often don't even realize how long we've played it. You can be sure of this: the effects of the game are easily felt. We can also be sure some people have become experts at the game.
My mother-in-law enjoyed playing the card game Hearts with her family. The people game involves people hearts. I imagine we all feel we've had heart messed with at one time or another. Giving our heart away to someone who is just playing the people game can land a crushing blow to the strongest of humans. Do you make promises you never intend to keep? Say one thing, yet do another? Do you lead people to believe your intentions are honest when in reality they are less than honorable? One strategy of the people game includes shuffling through people until we find someone we can manipulate, control and use to our advantage.
I can't speak for you, but I don't want to be a pawn in the people game, and I find myself weary of spectating as others are hurt by strategies put into practice by those who seem to delight in the game. Want out of the game? It's going to take a new response approach to be removed—something that will be an effective game changer.
Merriam-Webster defines a game changer as "a newly introduced element or factor that changes an existing situation or activity in a significant way." Or in the words of my husband, something happens to change the momentum of the game. We witness game changers when an incredible play causes one team to come from behind and take the lead.
Such as the moment God sent Jesus to defeat sin on the cross; this was His incredible play. In the midst of The Law and legalism, Jesus became the newly introduced element or factor that changed existing situations and activity in a significant way. Israel would never be the same. He became their salvation; He became ours, too. Jesus was a Game Changer.
I often receive a gentle nudge from the Holy Spirit, which reminds me He enables me to change the way I play the game. When pressed I don't need to respond like I used to.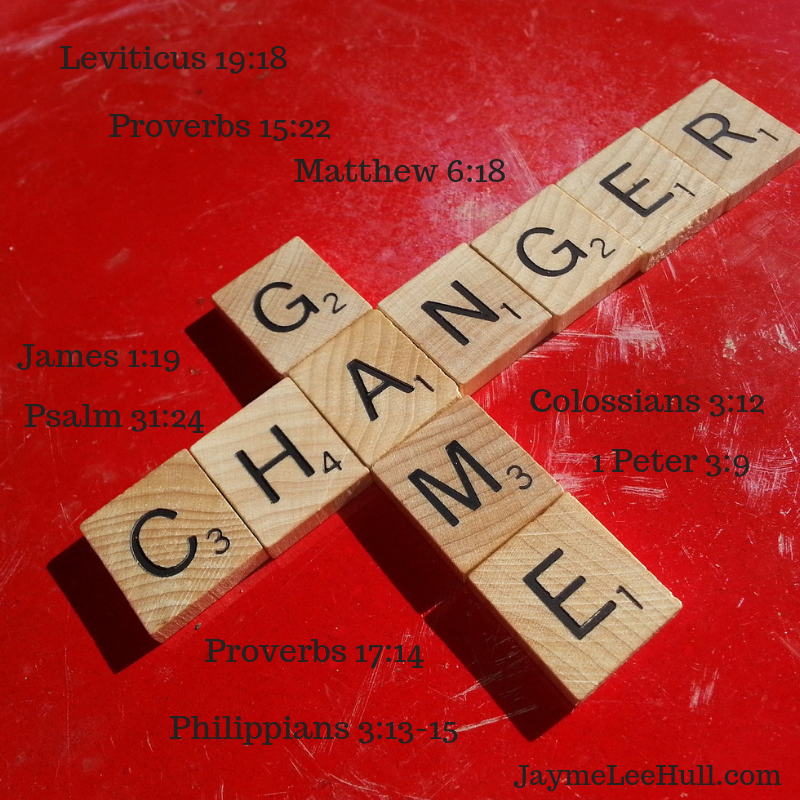 He makes it possible to:
Offer grace instead of revenge (Leviticus 19:18),
Forgive rather than hold that grudge (Matthew 6:15),
Pick up the towel you decided to throw in (Philippians 3:13-15),
Seek the wisdom of a counselor (Proverbs 15:22),
Seek to understand instead of demanding to be understood (James 1:19),
Let go of our right to be right (Colossians 3:12),
Find the courage to try again (Psalm 31:24),
Stop the insult for insult, hurt for hurt, and dig for dig (1 Peter 3:9).
Drop the matter before the quarrel breaks out (Proverbs 17:14).
We become game changers when we unselfishly love and seek the best for one another, just as He commanded us (1 John 3:23‬). The moment we decide we don't need to fall apart in our circumstances—and determine to find the best in everyone—we change the game‬‬‬‬‬ (1 Corinthians 13:7‬ AMP‬). ‬‬‬‬‬When we accept vengeance is the Lord's and leave it in His capable hands to decide, we are game changers (Romans 12:19). ‬‬‬‬‬‬‬‬‬‬‬‬‬‬‬‬‬‬‬‬‬‬‬
God wants to change our identity—one letter at a time—and the process begins when we become mindful of how we play people game.
#BeYou
G-Game Changer
Visit Kolleen's website for more inspiration and encouragement:  http://www.speakkolleen.com/
Kolleen is the author of the devotional book, The ABC's of Who God Says I Am. available on Amazon.com