When did the members of the church in America start drifting so far apart? How will the mature believer reconnect relationships with the younger believer? No matter what the size or denomination of the church, today's Christ follower across the generations can see this problem, but no one knows what to do to change it.
What's the solution?
After thirty-five years of meeting with people one on one to talk about loneliness and feeling disconnected, I believe I have the answer.
We need to develop a church body and community that is willing to be active in a face-to-face mentoring relationship with each other.  This is the missing link for the church and our entire society.
In a world that is increasingly impersonal and systematized, the younger millennials are hungry for the opportunity to connect with others. They desire to build a gut-honest relationship with a mature Christ follower who can speak life into their hearts and souls.
At the same time, the older generation is wondering if God has forgotten them and how they can make a difference.
We are at a crossroads. Will the older generation stand in the gap and mentor the next generation for Christ? Will the younger generation trust the older generation again?
Mentoring is a win-win situation: Younger believers are encouraged and grow, and mature Christians find a new purpose.
You may be asking, "Why bother? What's in it for me?"
God gives us the answer in His Word. Let's look at Proverbs 11:25
"The generous will prosper; those who refresh others will themselves be refreshed." Proverbs 11:25
Who doesn't need to be refreshed and encouraged?
You may not have even heard of the word or concept of "mentoring" before reading this article. Therefore, you may be asking, "What is a mentor and what does a mentoring relationship look like?"
A mentor is someone further along in their walk with God and continually growing in their faith. This is a person who is willing to listen and help another believer identify and maximize their strengths and giftedness, discover God's purpose for their life and "flesh out" the day-to-day reality of the Christian walk. Not parenting. Not preaching. Not coaching. But walking alongside.
A mentoring relationship is intentional and life-giving.
The best results happen when the two meet together for one hour a week to discuss life issues, be vulnerable, be encouraged and pray in a safe place with a safe person.
I believe mentoring isn't just a nice idea. It's critical for your growth—professionally, emotionally, relationally and spiritually. Mentoring can make the difference between success and significance. Between doing and becoming.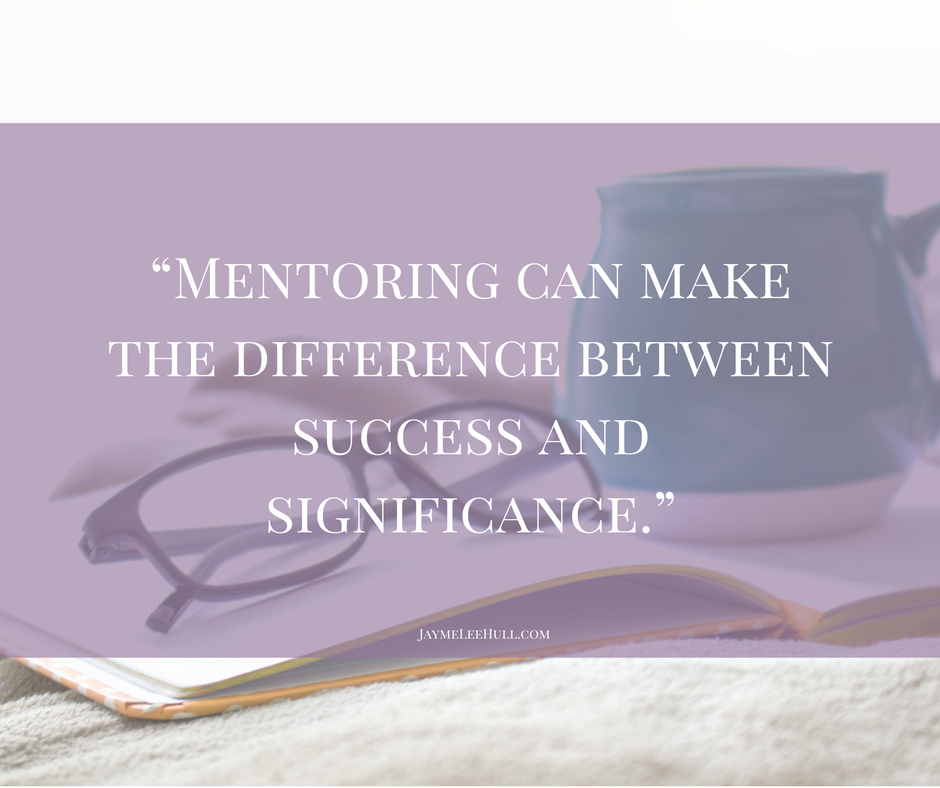 Maybe God is prompting you to start a mentoring relationship. Now is the time to reach out to the next generation and share your God stories.
Just like anything we do for the Lord, it will take intentionality, planning, and prayer.
Above all, spiritual growth always happens best in relationships.
 God created us to learn from and support one another. To stick together in life's darkest moments. To celebrate and cheer each other on. Whatever season you're in, now is the time to step out and begin seeking a mentoring relationship.
Here are 5 Steps to beginning your Mentoring Relationship:
1. Prayer
Begin praying for the Holy Spirit to move in a mighty way as you begin an
awareness for your mentoring relationship.
Pray without ceasing for God to go ahead of you with this mentoring journey.
2.Pass it On
Start planting the seed and having intentional mentoring conversations with your
friends, small church group, Bible studies and at get-togethers.
Ask if there is anyone who has already experienced a mentoring relationship and
encourage them to share their God stories with you and others.
3.Plan ahead
Mentoring face-to-face is a life changer. Invest in the Millennials and see the
incredible results. We serve a Big God. Plan Big but start small.
4.Pause
Take your time. Don't rush into things. Pause. Slow down. Seek God with every
conversation and He will guide you on the mentoring path.
5. Pour into others
Certainly, be intentional and authentic. Share your God story.
Be an encourager and motivator.
"Instead of waiting for someone to take you under their wing, go out and find a good wing to climb under." –Dave Thomas
Mentoring isn't a formula or a checklist; it's a relationship. May you be brave enough to be vulnerable, strong enough to reach out, and may you meet God in new ways as you connect with others on your mentoring relationship journey.  
  For more information on mentoring relationships click https://www.jaymeleehull.com/2017/07/18/seven-ways-to-have-a-successful-mentoring-relationship/