Be encouraged! Did you know God is connecting the dots of your life? He has a master plan for all of us and longs to encourage you. He cares about you and I and knows us each by name. It's impossible to see our lives from the past, present, and future but not for God! God sees the Big Picture from His perspective!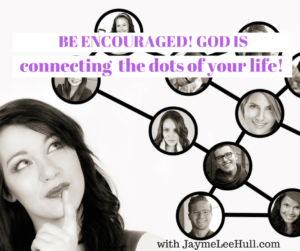 Part ONE: Be encouraged! God is connecting the dots of your life. Watch the Video below:
Having A God Perspective on life is the secret to peace.
Ephesians 2:10 "For we are God's handiwork, created in Christ Jesus to do good works, which God prepared in advance for us to do."
3 Ways to be encouraged as you wait on the Lord:
Spend TIME in God's Word
Create your own Timeline
Take the Time to Reflect on the goodness of God with a Thankful heart.
Align Yourself with God's Perspective
Ecclesiastes 7:8a "Notice the way God does things then Fall into line."
PART TWO Video with the Closing statements and encouraging Words!
May you be blessed with this message and share it with others.
God sees you and knows you by name. He cares about you and will never leave you.
For more encouragement visit me on Twitter: https://twitter.com/JaymeHull
On Facebook:  https://www.facebook.com/JaymeHullFaceToFaceMentoring/